Bespoke Suit Fabrics by Scabal of Savile Row

London
Man
chester City Centre Cloth Merchants - Suit Fabric Cloth Sales
Below is a small selection of the vast range of over 10,000 bespoke suit materials we have in stock.
We have on offer many of the finest, most luxurious bespoke fabrics from all corners of the world, from the leading manufacturer Scabal, whose name is synonymous with there showroom of Savile Row. These bespoke suit fabrics are largely woven in British mills only a few miles from our Manchester showroom. This means you can be sure that we have available the widest range of quality fabrics for you. We have sourced a mix of the best traditional and contemporary suitings.
We are one of only a few bespoke tailors outside of Savile Row to have the full Scabal bespoke suit fabrics from London.
Bespoke suit fabrics suitable for all seasons and climates with weights ranging from 8 upto 16 oz and for every occasion; from formal evening wear to business wear or wedding suits to something for a day at the races. Choose from our vast range of sporting tweeds to fine English worsteds, wool & cashmere and wool & mohair mixes to fine Irish linens and moleskins or overcoatings in fine wool, camelhair and cashmere. Then chose possibly a pinstripe, chalk stripe, herringbone, dog tooth, window pane or prince of wales check - the choice is endless at Michael James Bespoke.

Below is a small selection of the vast range of over 10,000 bespoke suit materials we have in stock.
The cloth is also available to buy per meter, please ring us on 0161 8327678 for prices and suit fabric cloth stock.





Bespoke suit fabric cloth - Sunrise

"The star of our new collection is without doubt "Sunrise"," 50 per cent Super 200's wool and 50 per cent silk, it is a luxury gentlemen's suiting cloth at the very top end of the market – with a soft touch, light feel and beautiful shine". "Sunrise" is a cloth produced in Scabal's own weaving plant in Huddersfield (England). Spinning and weaving this delicate wool and silk composition - a marriage made in heaven - is not an easy task as it is very labour-intensive. However, the result is definitely worth it: "Sunrise" is one of the most remarkable fabric for suits developed in recent years." "Sunrise" is an exceptionally soft fabric weighing 220 grams. The fine micron - 1 micron is one thousandth of a millimetre - of the combed worsted yarns is not the only measure of its quality. The crimp and length of wool fibres as well as the general style are just as important to make a fine quality cloth." Sunrise offers a high-colour palette of 28 designs for top-end suiting, including the light greys and beiges particularly appreciated in Middle East and Asian markets. A beautiful top decoration that makes Sunrise a very soft, fine-looking and colourful cloth. As from early 2008, Sunrise is available in the 65 countries in which Scabal has a presence.







Bespoke suit fabric cloth - Summit

Twenty-five years ago, Scabal launched the world's first cloth finer than Super 100's and, since then, it has pursued an unceasing quest for the finest wools in the world. In 2000, Scabal created a Super 200's quality, called Exceptional. Now, after five more years of tireless research, Scabal has reached the pinnacle in ultrafine Australian wools and is proud to announce the arrival of a cloth worthy of the name, SUMMIT.






Bespoke suit fabric cloth - Temptation

Scabal have engineered this cloth as a result of today's needs:
To be rich in ultimately fine natural rare fibres, lightweight, and to provide a certain amount of comfort and drape that will keep during wearing.
Not only is TEMPTATION one of the finest cloths available, but it also has been specially developed to assist the Tailor during the different stages of garment making. Offering the support, formability and drape required producing a garment that compliments itself to the cloth, a property often forgotten in all other fine cloths of today.
The special Super 200's merino wool forms the base and by using modern spinning technology, following the traditional techniques of our ancestors, Scabal have blended it with a Vicuna fibre of exclusive nature.
The precious, delicate fibres have been married in harmony using the best most select spinner in the heart of the textile industry in England.
The yarns have been skilfully woven together in the finest mill in England. To complete the traditional processes a London Shrunk finish and an Original Paper Press finish have been applied.
The final cloth contains wool from the vicuna animal supported with a CITES proving that this is truly an original licensed product, scarce in today's competitive market. Temptation is available in ten designs of fancy classical stripes with colour variations of greys and navy.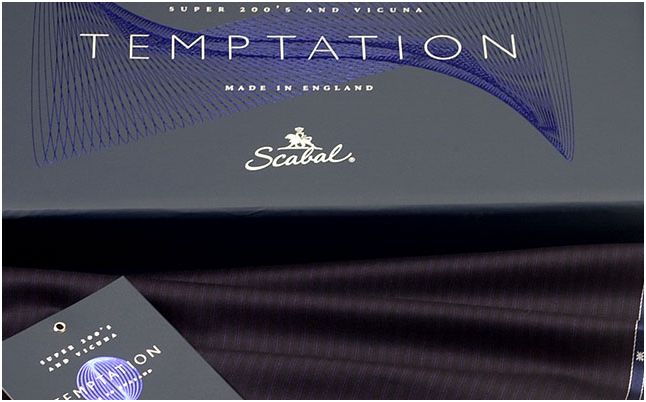 Bespoke suit fabric cloth - Yangir

Can you imagine a tailor-made suit in a fabric which is even softer than cashmere? This will soon become a reality with the latest creation by Scabal. This amazing fabric goes by the name of Yangir, after a wild mountain goat which inhabits the Mongolian high mountains. Its wool is exquisitely soft; it is very rare. For Scabal it has been a major challenge to bring this project to a successful completion. However, as from July 2006, you will be able to order your first fabric length of Yangir.The international number one brand for prestigious men's fabric Scabal is not easily satisfied when it comes to raw materials for its exclusive woven fabrics. Only the finest bales of wool will meet their high standards and Scabal constantly strives for improvement.

To create this latest Yangir fabric, Scabal has purchased wool which originates from the Yangir, a goat which lives in the wild in the high mountain range of Mongolia, Turkistan, Kazakhstan, Pakistan and Nepal. Well, let's just say the roof of the world. The Mongolian word 'Yangir' means robust animal with fine wool. The wool of this rare species of goat whose colour varies from chocolate brown to creamcoloured, looks like cashmere but is even finer, softer and warmer. It is the epitome of luxury. It is also a highly exclusive type of wool. Worldwide, this wild species of goat only yields a few hundred kilos of wool per annum. Scabal acquires only the finest quality of this wool and selects only a small percentage of its ultrafine, short fibres. Textile specialists define this wool as the "golden fleece of the 21st century. The Yangir fabric by Scabal consists of 20 per cent of Yangir wool and 80 per cent of ultrafine Super 200's wool. Spinning this delicate, shorthaired Yangir wool is not an easy task as it is very labour-intensive. However, the result is definitely worth it: Yangir is the most remarkable fabric for suits developed in recent years. It is an exceptionally soft fabric weighing 320 grams, designed to create the most exclusive suits.

The fabric has an extremely pleasant feel, it drapes well and looks exquisite. What is also remarkable is that the wool of these Capra Ibex Sibirica goats, or Yangir goats, has in the past been woven into scarves by Scabal, but never before has it been used as a fabric to make suits. Yangir is now the top Scabal suit fabric based on this type of wool.As from July 2006, the fabric will be available in the 65 countries in which Scabal has a presence. It will be delivered in a gift box with brochure, a Yangir fabric label and a set of special buttons.






Bespoke suit fabric cloth - Private Line

Scabal is taking personalisation just one step further. As of now, there is the possibility of weaving a name or a message into the fabric.

This new collection has very appropriately been named "Private Line". In this very elegant way, Scabal is implementing the general trend for increased personalisation. Thanks to new technology, it is now possible to weave complete sentences, and this in an uninterrupted line or with spacing.





Bespoke suit fabric cloth - Tresure Box

Scabal's "Treasure Box" collection offers 15 high-quality fabrics between 230 and 300 grams:the seven most successful fabrics from the "Gold Treasure" 22-carat collection, three with platinum, two 24-carat gold designs and three fabrics with both pla...tinum and 24-caratgold designs. The designs are in-house originals; the production is done in England. The new "Treasure Box" collection is available asf rom September 2009 in all 65 countries where Scabalis present. A brilliant X-mas idea maybe.







Bespoke suit fabric cloth - Gold Treasure

In line with its tradition of luxury and exclusivity, Scabal has developed Gold Treasure, a fabric made from 22 carat gold and fine count Super 150's, from a rare bale of 15.5 micron Australian Merino wool. It represents not only the finest English craftsmanship, but is a genuine treasure trove, as its only decoration is 22 carat gold.

The production process took a long time to get a perfect result. The aim was to produce a cloth that represented not only a superb piece of craftsmanship but would also offer the reliability and performance qualities that are such an important factor in modern fabric and yarn technology. This precious cloth comes in classic dark shades of black, charcoal and navy blue so that the brilliance of the gold threads is set off against the dark background shades and immediately becomes the focus of attention. As a result of the complex production process and very fine yarn count, Gold Treasure will only be available in limited quantities to a very exclusive clientele.




Manchester City Centre Cloth Merchants - Suit Fabric Cloth Sales

Michael James Bespoke Suit Fabric Collection
Fine Hand Crafted Suits & Shirts For Ladies & Gentlemen. Manchester City Centre Cloth Merchants - Suit Fabric Cloth Sales
Covering All NorthWest Regions Including Manchester, Liverpool, Chester, Cheshire, Lancashire